In our last adventure, the PCs were wandering their way through the great pyramid of the City of the Atheists, on a quest to obtain Potion 21, the most powerful potion in creation, which they want to use to destroy Sezrekhan. Making their way through the weird environment, the party experienced the unfortunate death of the Trans-Mutant Warrior, after he had also been shrunk to 3 inches in height and turned into a girl (he's had a pretty rough time of things in the pyramid). But they decided to try to use a dubious 'resurrection' scroll on him, and he came back to unlife as an intelligent free-willed undead.
The party then found their way into a weird room and fought some rubber automatons, and discovered that they were guarding a trio of cryotubes, with living people in them! Could they be Ancients?
Now:
-"Are they Ancients in the tube?"
"No."
"How do you know?"
"There's three of them. There's no way the DM would suddenly give us 3 ancients."
"Wait, if there's 3 of them, could they be newbs?"
"But no one died."
"The trans-warrior died and then we made him an undead! Maybe the universe doesn't count that as alive!"
"We broke the game!"
"They're definitely not Newbs. Look at what they're wearing! I'm pretty sure they're retards! That guy has a rainbow on the chest of his uniform!"
"Maybe they're My Little Ponies?"
-"Who is going to open the cryotube?"
"Catboy could spend luck and mash at the controls with his paws."
"No, I can't do that anymore, I'm not a catboy anymore!"
-Catboy still manages to open the cryotubes by randomly typing at the controls, like in a bad movie about hackers. Three teenagers emerge, two mutants and one human, all in strange outfits with different chest symbols.
"Are you ponies, or care bears?"
-"Who are you people?!"
"I'm heidi, that's Bill the Elf.."
"Bill the elf?! Super Cool Teens, Assemble!"
-"No, he's... um.. the good Bill!"
"There is no good Bill!"
"I'm reformed! I haven't committed genocide in days!"
-"We should carry around a board saying 'X days since last genocide'!"
"Yeah, or you could just stop telling everyone I'm Bill!"
-"We're from the Legion of Super Cool Teens! I'm Color-Hearing Lad, this is Annoying Laugh Girl, and that's Explosive Diarrhea Boy!"
"What?!"
-"We're here to stop the Apocalypse Protocol that you caused, Bill!"
"That's over."
"You've been in cryosleep a long time."
-"Hey, can you show us your powers?"
"Dude, are you looking to shit yourself or something?"
-"You guys are seriously in the Legion of Super Cool Teens? You're not Substitutes?"
"Actually... we're Reservists. Someday, we hope to be Substitutes!"
"That makes sense."
-"What color is my gun?"
"B flat."
"Oh.. I would have guessed A sharp!"
-"What kind of superpower is it to shit yourself?"
"I don't do that. I make others shit themselves."
"That might actually be useful.."
"That's not a superpower! I did that every time I gave my hermanos some tacos!"
-The party decides to move on.
"Maybe the Teens can check for traps?"
"No, that's Check For Traps Lad."
-The party gets to a door with a sliding peephole.
"I knock."
"...what's the pasword?"
"is it... password?"
"...that was last week, but it's still good, come in!"
-"The room is a strange looking Cantina filled with a wide variety of strange looking humanoids, a band playing a cheesy tune, and a bartender that looks a lot like Bea Arthur"
-"Hey... you.. we don't like your kind around here!"
"...what kind am I exactly?"
"Undead pixies!"
-"Explosive Diarrhea Boy incapacitates the gnoll-like creature harassing the trans-warrior with his power."
"Wow... that is definitely a dark-side power!"
-The party moves on and approaches the entrance to a room filled with what seems like a summoning circle.
"Color-hearing Lad, do you hear anything ahead?"
"Danger. Also magic."
"You can hear magic?"
"Magic colors, yes."
-When the party enters, they are suddenly faced with a dozen demons plus a demoness; one of the demons wielding a black chaos greatsword.
"Boyboy stands in front of Annoying Laugh Girl, to protect her!"
"LOL, He's White-Knighting her!"
-"There's a big group of demons there, Heidi. You could fly up and drop a grenade in the middle of them!"
"I only brought pacifist grenades, I forgot!"
"He forgot how to be a hypocrite!"
-"I grab pixie-trans-warrior and try to push him into the demon's mouth!"
"Hey! I'm not Ant Man!"
"You're 3 inches tall, good enough!"
-"The Super-Cool Teens' powers are surprisingly useful!"
"Yeah, but their hand-to-hand skills suck."
-"Annoying Laugh Girl is hit by a demon, and she falls!"
"Oh no! My Pity-Fuck!!"
-The party defeats the demons.
"Heidi sunders the black sword!"
"Trying that could have destroyed your daemon-slayer sword, you know..."
"It would have been win-win either way!"
-"Heidi swallows the mystery pill."
"OK. Heidi suddenly vanishes!"
"Shit! OK, guys, let's wait for him."
"How long do you wait?"
"30 minutes."
"30 minutes later, he doesn't show up."
"Well... let's wait 30 minutes more?"
"Sure. No sign of him."
"OK, he's dead."
-"Catboy is still cursed by that scimitar he picked up."
"He's scimitarded!"
-"I throw my scimitar at the insect creature... return to me, scimitar!!"
"The scimitar does not return."
-Meanwhile, Heidi finds himself having been teleported to the Interspacial Rhombus, where he meets Nikos the mad immortal wizard!
"I am going give you choice: I can give you curse, boon, or teach you valuable lesson!"
"...I'll take the boon?"
"OK, your boon will also be valuable lesson!"
"damn."
-Nikos gives Heidi a box with a button.
"I press the button."
"The box seems to unfold and transform into a 3' tall robot!"
"HELLO I AM YOUR COMPANION ROBOT PLEASE STATE YOUR NAME"
"Heidi."
"DID YOU SAY BIM?"
"No, Heidi."
"NAME CONFIRMED: HELLO BIM!"
-"So you're like BOLT-0?"
"ARE YOU SEEING OTHER ROBOTS, BIM?"
-"Can you spread butter?"
"ARE YOU LOOKING FOR BUTTER, BIM? YOU CAN FIND BUTTER NOT ON THIS PLANE. WOULD YOU LIKE DIRECTIONS TO NOT ON THIS PLANE BIM?"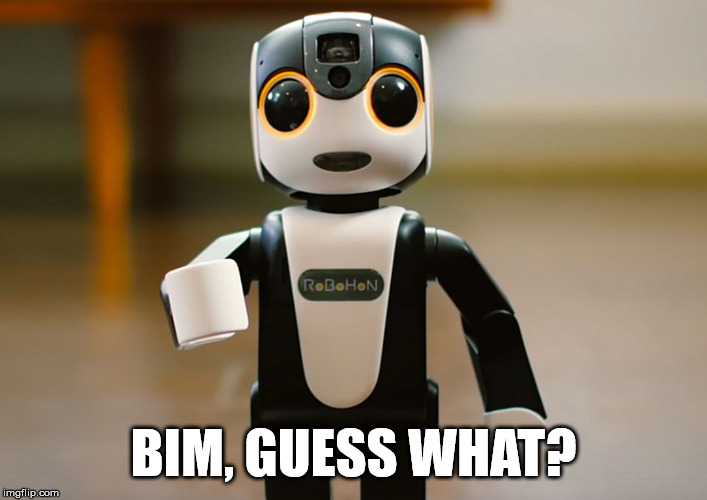 -The rest of the party gets to a room where they meet the Devotees of Zorg, a race of plant-based broccoli-like humanoids.
"Welcome!"
"They don't seem dangerous."
"We only celebrate Zorg, with our songs, and playing of games, for all our lives, until each of us gets his turn to be devoured by Zorg!"
"What's Zorg?"
"He's our god!"
"So, like, you're sacrificed?"
"We are eaten by Zorg."
"Is that crude drawing of a gigantic cyclops eating a smiling brocoli-man Zorg?"
"Yes!"
"Where is Zorg?"
"He's in the room down that hallway!"
-"So Zorg is just down that hallway, what's down that other corridor?"
"That is the room of the Sphere of Death!"
"What's the Sphere of Death?"
"Everyone all together says: 'there's two things you need to know about the sphere of death...'"
-"Do not go there, it is certain death!"
"OK, let's go check out the sphere of death!"
-"You get to the entrance to the room, and see that it's got no visible exits and seems to have nothing in it."
"Where's the Sphere of Death?"
"Maybe it appears if someone enters, like the last one?"
"Go on then..."
"I don't know.."
"Forget it, Bill will blow the Horn of Dutchmen!"
"Five Dutchmen appear!"
"Isn't that weird?"
-The Dutchmen enter the room, and a large sphere of sinister energy appears in the middle of it!
"No one touch it."
"Are you sure?"
"Catboy throws his scimitar at it!"
"Hm... ok, the Scimitar goes through the sphere, and the sphere's energy seems to all get sucked into the scimitar until the sphere vanishes, and then the sword falls to the ground. Now it's covered in strange green magical runes."
"Holy crap, that worked!"
-Heidi returns, with his new Companion Robot!
"Hey guys, this is my Companion Robot."
"ARE THESE YOUR FRIENDS, BIM?"
"Bim?"
-"This is Bill."
"DID YOU SAY HEIDI?"
"No, Bill."
"HELLO HEIDI!"
-"This is the Neutral Warrior..."
"DID YOU SAY NOT-A-WARRIOR?"
-"This is the Cleric.."
"DID YOU SAY THE CLERK?"
-"This is Boyboy."
"That's not my name!"
"DID YOU SAY BOYBOY?"
"Oh come on!!"
-"Companion Robot, do you know what those runes say?"
"YES BIM. THEY ARE RUNES OF POWER THEY MAKE THE SWORD POWERFUL AND NOT SUCK ANYMORE"
"Not suck anymore?"
"THAT IS PRECISELY WHAT THE RUNES SAY, BIM"
-The party decides that before moving on, possibly to face whatever Zorg is, they're going to rest and recover.
"WOULD YOU LIKE ME TO SOOTHE YOU TO SLEEP BIM?"
"Yes, yes I would."
"...GO TO SLEEP BIM...HAVE SWEET DREAMS BIM...CLOSE YOUR EYES BIM...HAVE A GOOD NIGHT BIM... GO TO SLEEP BIM..."
"For fuck's sake Heidi, shut that thing up!"
"It's helping me sleep, guys!"
That's everything for this session. Stay tuned next time as the DCC team keep making their way in their quest for Potion 21!
RPGPundit
Currently Smoking: Neerup bent apple + Image Latakia