I wasn't going to do anything political today, I swear I wasn't. I was going to write about comic books. But then the BBC had to go and suspend Jeremy Clarkson.
For those of you who may not know, Clarkson is the lead of the team of presenters on Top Gear, the BBC's megahit motoring show, one of the most watched shows world-wide. If you have never seen Top Gear, go watch it! It's awesome. And I say this as someone who has never in his life owned a car and has no interest in cars. Because it's not awesome because of the cars at all; its about the chemistry between Clarkson and his co-stars, the utterly outrageous and hilarious things they do, the crazy stunts, the challenges, the humor, and the intensity of watching these three middle-aged guys who very clearly absolutely love their job and the subject thereof.
Anyways, apparently this time, Clarkson (who has a long history of pissing people off) got into a scuffle with one of his producers. But the real story is that the head of programming of the BBC desperately wants to get rid of him because he's anti-europe and anti-PC and made fun of the Labour Party Transport Critic, and talks like a normal human being; but thus far hasn't been able to fire Clarkson because Top Gear is some ridiculously HUGE percentage of the BBC's annual income (it beats out Doctor Who, and between those two that's pretty much all the real money the BBC makes). So the programming head has been frantic to try to push Clarkson out (especially now that his contract is about to expire in a month). I wouldn't be surprised if he hadn't sent out secret orders to have them try to provoke Clarkson into some public cock-up that could be used as an excuse to get rid of him whether the government oversight wants him gone or not.
Anyways, the point is the suits at the BBC DESPISE the fact that they have to put up with a megastar who doesn't fit their political/ideological/social agenda, just because the BBC is forced by political realities to keep making shows that are a) profitable and b) immensely popular. The first is not technically part of their mandate, but it is in practice; the second is literally supposed to be a rule for them: they're supposed to be required to produce shows the public cares about, which has led to decades of the BBC programmers desperately trying to socially indoctrinate the public into caring about very different things than they do, to no great success. These are the same people who killed Doctor Who, and then desperately tried to stop it from coming back, and now continue to find ways to try to sabotage it, because Doctor Who is not "the type of thing" they like: it has too much heroism, its not 'sophisticated', its too morally black-and-white, its too middle-class, and generally speaking is just too popular to be 'good' in their demented worldview. This is the same crime Top Gear is guilty of: the common unwashed masses like it, and clearly those are the terrible people that the ideologically-pure sophisticates of the BBC are supposed to be TELLING THEM what to do like, and not the other way around. It is appalling to them that instead of them being the ones who get to indoctrinate the public, the public dares to put demands on them.
And of course being good socialists they don't actually give a shit about "money" (they think the BBC should be "above" either making money or producing shows the public actually wants to watch; it should all be about "art" and "social education").Which is exactly why I think they should have to be forced to keep putting up with Jeremy Clarkson. As punishment.
So I urge you all to go sign this petition to make the BBC reinstate Jeremy Clarkson. It has been signed by over half a million people in under 24 hours, making it the most successful petition in change.org's history, apparently. Normally, I think that sort of thing is bullshit; I would not have expected myself to be suggesting people go sign one of these petitions, but then again, usually the subject in question is idiotic, made up by some pseudo-activist douchebag, and the topic has zero chance of being successful. In this case, neither is true: the cause is just, and the BBC's mandate would put EXTREME pressure on them to have to do what the public want.
So go, sign it! It doesn't matter if you're British or not, either, because BBC transmits top gear worldwide. If you live in a country where you can somehow get Top Gear (and seriously, go watch it, it's fucking awesome), you can sign this and it will help.
Now, if I were thinking rationally about all this, I think that what would probably be best for the Top Gear trio would be if they said "go fuck yourselves" to the BBC, went to work with the exact same show for Sky or Channel 4 (both of which are ALREADY in a pre-emptive bidding war to try to lure the three Top Gear presenters away from the BBC) and ended up being even more hilarious and outrageous (now unfettered by BBC censorship) and totally demolished whatever politically-correct trio the BBC demographically and ideologically selected to try to replace them.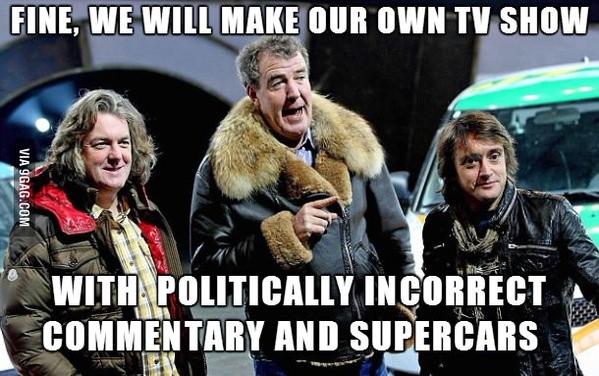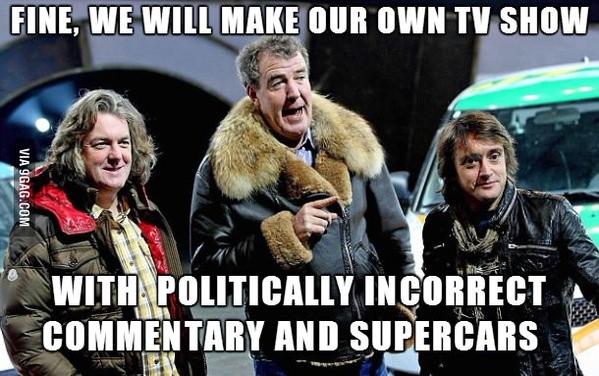 But on the other hand, I think nothing pisses off the gang of cultural marxists, Collectivists, and nanny-staters in the BBC more than having to keep putting up with the fact that their most successful, most popular, most profitable star is Jeremy Clarkson, and that they have to keep letting him be him, over and over again, because nothing their bolshie consensus-based planning committees have come up with even comes close to approaching Top Gear's worldwide success and Clarkson's genius.
So basically, I support Clarkson staying in the BBC... mainly because it would make the BBC SUFFER. It's how they should be punished
RPGPundit
Currently Smoking: Lorenzetti Solitario Rhodesian + Gawith's Balkan Flake