The big problem with this picture: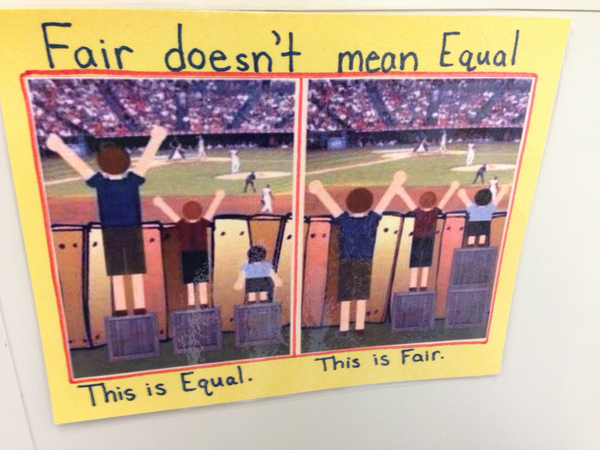 ..is not the sentiment, however overly simplistic it might be. It's not even the irony that presumably all three kids are breaking the law.
No, the big problem with this image outside anything beyond the absolutely personal level is that there's always some asswipe college-graduate social-worker with a head full of indoctrination and no real-world experience, in a government-job-for-life, feeling entitled by their own sense of superiority
that they get to be the one who decides just who needs what box
.
That's the major flaw: it depends on certain select chosen people (usually the absolute worst people possible) being expected to "know what's best" for EVERYONE else.
That's why people much smarter than whoever made this image realized long ago that the role of the collective/government/community/etc. must be to mandate equality of opportunities, not "fairness" of outcome. Because the former can be enshrined in law while the latter depends on a special elite getting to decide what things we value as outcomes, who should be forced to give up stuff to assist others in getting more, and "what's best" for everyone whether they want it or not.
RPGPundit
Currently Smoking: Lorenzetti Solitario Oversize + H&H's Beverwyck