Nothing is ever, ever enough for the Ctrl-Left. And I wish gaming companies would really get that. Absolutely no actions will ever satisfy them.
Case in point, the latest D&D book, Tomb of Annihilation features an area of the Forgotten Realms which was once just barbarian jungle vaguely in the style of the heart of Africa.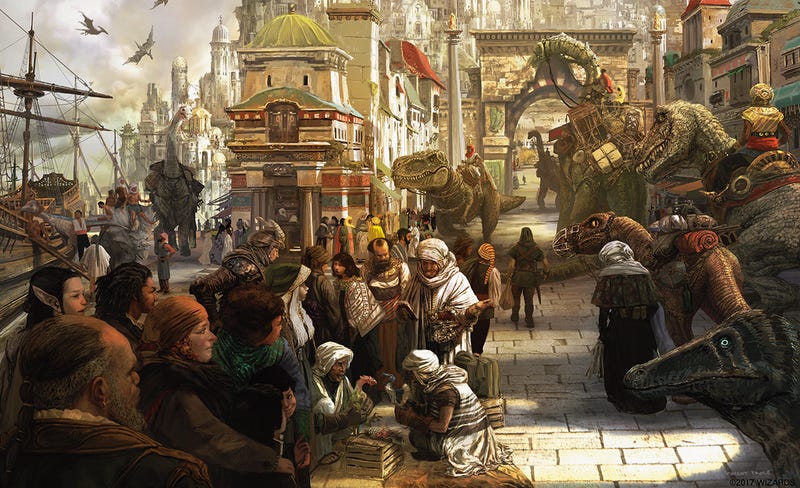 But for Tomb, Wizards re-imagined it as featuring a significant and developed city-state obviously inspired by African history and cultures in the same vanilla-generic way that the "white" countries in the Realms are vaguely generically inspired by 'medieval Europe'.
For Kotaku, this was a vile act of racism.
The most ridiculous part is how this very white alleged 'game journalist' says WoTC should have made the Realms' black civilization a "black Atlantis" of (I assume perfect and flawless) "bleeding edge technologists that engineer magical machinery", when we all know that if Wizards had done that Kotaku's white propagandists of leftist Identity-culture would have just accused Wizards of something like "erasing any element of African culture from their world" or how "white kingdoms get to be based off Europe but black kingdoms don't get to celebrate Africa".
That's just how it is for them. The point is never to be satisfied. It's to keep damning the hobby. My own
Arrows of Indra
game was accused of being racists by the Ctrl-Left, largely for being too accurate a depiction of certain aspects of Indian culture, like the caste system. If I had ignored the caste system, I would have been accused of ignoring it. There's never any way to win their stupid game, and the only way to avoid losing is to just tell them to go fuck themselves.
Quit lying, Kotaku. We know your whole agenda is to never, ever be satisfied with anything anyone does, because you keep making money off of false outrage and increasingly ludicrous demands that somehow will never be enough when they are met.
RPGPundit
Currently Smoking: Brigham Anniversary + Image Latakia