Some democrats on my social media just don't get why Hillary Clinton is so unpopular with everyone but them (I won't say 'leftists', because usually most seriously leftist people on my social media can't stand Hillary either; the only people who don't seem to understand are people who are not so much on the ideological left as people who have some kind of lifelong allegiance to the Democratic party, or who are so inflamed by some kind of single issue, usually feminism and 'electing a woman president', that it overrides all other considerations for them). This is my attempt at an explanation for those utterly bewildered Democrats, as someone who had been supporter of Bill Clinton both times, but still can't stand Hillary. I am mostly posting this here so that I don't have to keep trying to answer this over and over again, and the next time someone asks, I can just link this blog entry. You can feel free to also, if you find it useful.
Far from being a lifelong 'public servant', Hillary has mostly served herself all these long years. And what she has used to serve herself is the promotion of an ideology that does a disservice to individual liberty and human freedom.
Notice how, at the convention, no one mentioned the ultra-corrupt Clinton Foundation.
Note how Hillary is the last person who should be talking about how Trump's 'tweeting' habits make him ineligible to be trusted with state security, when her cavalier attitude with email security is already a proven fact!
Note how she talks about how women need to be listened to, but spent much of her career silencing the various women who accused Bill Clinton of sexual harassment. She also condemned the women in her own party who supported Obama over her, and later Bernie over her, slandering both as traitors. So apparently women need to be listened to as long as they are in favor of Hillary ascending to the White House that it's "her turn" to have.
Note how she now says "marriage equality is the law of the land" but she voted staunchly against it until the very moment slightly more than half of democrats were in favor of it, and then flip-flopped. Hillary Clinton didn't came out in support of gay marriage, after having routinely voted against it,
until 2013
. Not only have I been pro-gay-marriage for about 20 years longer than Hillary Clinton,
I have ongoing games of D&D that have been around for longer than Hillary has been pro-gay-marriage
.
Note how she talks about the fears of Trump (who could be called an isolationist) being a warmonger, but she has
enthusiastically supported every single war America has fought for the last 24 years
, and voted for many of those.
But most of all, take a note of this: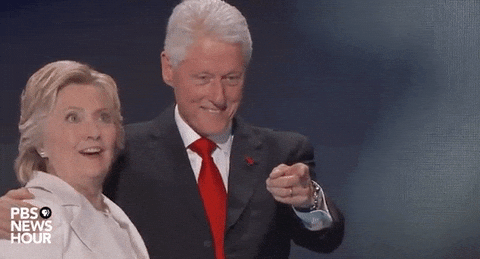 The utterly fake look of surprise an adult makes when trying to humor a child, done for the cameras. This gif sums up Hillary. She's not capable of a natural kind of reaction, she always has to put on an act, always has to fake it, to give people what she thinks will win them over. But she's also AWFUL at it. She is so obviously faking surprise there that you can only assume she thinks that even her own party faithful are a bunch of drooling childlike morons. To say nothing of what she thinks of the American people.
Clinton has had one long career of treating the people with contempt. Of assuming herself and her family (including her trust-fund daughter who she got a $900K job for straight out of college in a depression) are simply above everyone else, that the people are fools that need to be controlled, ruled and lied to whenever necessary to get what she wants. And the main thing she wants is to be crowned President. She despises the fact that the American people can get in the way of that, because she believes it is her natural right to be in charge. She sees people entirely as tools or as obstacles.
She has been a typical collectivist elitist ever since 'it takes a village'. Her 'presidency' would lead to an increase in goldman-sachs corporate-collusion, continued adventuring, war, and failed diplomacy in the world, a level of favor-selling unseen in the white house since the 19th century, and a vicious and oppressive strengthening of the Nanny State, including the promotion of censorship against ideological opponents.
That is why we hate Hillary.
RPGPundit
Currently Smoking: Ben Wade Canadian + Image Latakia