We're smack dab in the middle of the Death Race 3000!
Now:
-"On the hover-tank we have Vizi, Heidi, Blitzkreig Sakomano, and Space-bear."
"Yeah, the cool group! The other car has the nerds!"
"Hey!"
"Man, it's bad when it's the GM saying that..."
-"It's kind of an ideal situation for you, when your GM forgets that your familiar even exists. Which is why I count on the rest of you guys to remind me of Mu's monkey-wizard familiar."
"That's what we're all here for, to inform on each other!"
-"I'm depressed so I go and pet a dolphin."
"The dolphin looks nervous."
-The road in the death race track leads right into, and out on the other side, of some kind of green basalt ziggurat-style pyramid. After a brief debate about possibly driving around it, the PCs decide to go right in. The tunnel leads into a room with several corpses, a steel gate, and a couple of undead guards in vaguely aztec-esque gear.
While the Vegan and the Hippomagus debate over who should get to have the staff, instead of firing the APV's weapons at the guards, the guards rush forward and jump (quite athletically for undead) onto the APV roof.
-The Vegan and the Hippomagus are under attack! Mu casts magic missile.
"I fire all the missles at the zombie on the Vegan."
"Heh. You really want the Hippomagus to die, don't you?"
"You're lucky, Vegan, in that you're no threat to Mu, or to anyone."
-"For defeating the zombies, you all get 2xp."
"Just barely not enough for the Vegan to level!"
"No, actually, I won the xp award last time, so it's exactly enough for me to level up!"
"SON OF A BITCH!"
"Hah, the GM intentionally wanted to leave you with 1xp to level."
"The vegan played his cards close to his chest. Well done."
-"I swear to god, Vegan, if you summon another porcupine Mu will never get to use that staff again!"
"What?"
-"Why are you summoning another porcupine?"
"For protection!"
"What, is it going to dive in front of you, Bodyguard-style?"
-During the fight with the guards, a ghoul snuck into the hole in the hull of the Shaft-1, and attacked Vizi, paralyzing him. Heidi dispatched it, but Vizi lay there, paralyzed and ignored.
"Hey Heidi, so is Vizi dead or something?"
"Oh yeah, I forgot to check... Vizi, blink once for yes, twice for no."
"He can't blink at all!"
"He seems broken on so many levels."
"Aren't we all?"
"I'm less broken."
"Being less broken than everyone else in the party doesn't mean you aren't still really broken."
-"The Hippomagus is of Lawful Boyscout alignment, but he's slowly shifting into Lawful Freak, thanks to you guys."
-The steel gate rose automatically when the zombie guards were dispatched, and they moved on into a larger hall with some strange menhirs and some more undead guards.
In the ensuing fight, one of the PCs misses a shot at an undead and instead hits a menhir, causing it to explode. When it does, a magical shockwave hits the party, and all of a sudden a bunch of them switch bodies with each other!
Mu switches with the Vegan, Vizi switches with Heidi, and Sami switches with Mongo!
-"Mu, my body is made of paper! Don't get hit!!"
"You really suck, Vegan."
-"I'm going to blow up another menhir! That ought to fix things."
"No wait!"
"too late."
-Naturally, this only makes things worse. Now Heidi is in Vizi's body, Vizi is in Heidi's, the Vegan is in Sami's body, Mu is in the Vegan's body, Sami is in Mongo's body, Mongo is in Mu's body, and Blitzkreig and Roman have switched bodies!
-"The Vegan is going to enjoy this! It's the closest he'll ever get to being inside a hot girl's body!"
-"Are you casting?"
"Yeah. Wait, I'm in the Vegan's body.. I spellburn!"
-"I'm shooting at another menhir!"
"No, you motherfucker!"
-Heidi keeps blowing up menhirs, causing more body switches and total chaos.
-"Maybe if I kill the Vegan's body I'll switch back?"
"No, don't do that. I don't think it will end well for any of us. Go against ALL your instincts and don't kill the Vegan!"
-"I was in Mongo's body for a while; did you know he was packing? Like seriously, now I know why he is the way he is, no blood is getting to his brain."
-The PCs come up with a plan. They back the vehicles away, and then just have three of the PCs in switched bodies go up and destroy a menhir, to see if it works out that at least one of them switches back into their own body.
"You'll have to carry me. I'm too weak to walk."
"Dude, even after Mu spellburned the Vegan's body, you have 3 Strength left. That's still enough to walk."
"I'm not talking about strength. I'm stuck in the Vegan's body; I'm talking about the will to live."
-After blowing up 4 menhirs, the Vegan is finally back in his own body, and Heidi is in Mongo's body. The Vegan also notices that Heidi used a dagger to carve a penis on the vegan's arm.
-Unable to figure out how to open the next gateway, the PCs go on a side path, and run into a large undead humanoid with a massive sledgehammer. He charges the Lolipop and smashes its mammoth skull.
"Holy shit, what is that goddamn undead?!"
-After blowing up some more menhirs, using their previous strategy, only Vizi and Mongo are still switched.
"Huh. It's true that Mongo is packing, but I'm not sure if as much as Blitzkreig."
"Sakomano pleases all the ladies!"
-The room with the undead giant had a trapdoor. Heidi opens it to see if there's something of use, and finds that the pit below is full of zombies who try to rush out. Luckily, he manages to shut the trapdoor before they get through.
"Nope, nothing important down there."
-They go down the opposite path to another room, where there's three of the undead giants seemingly using some black sludge to make a new menhir.
"OK, magic-users get ready!"
"Oh, so now I'm a wizard, huh?"
"I didn't say wizard, Mu, I said magic-user."
"fuck you."
-The Hippomagus fires a barrage of magic-missiles in a rare show of competency, killing one undead-giant and badly injuring the other two. Then Mu fails his roll to finish them off.
"You had one job!"
"I told you we should have left it to the real wizard."
"Shut up!"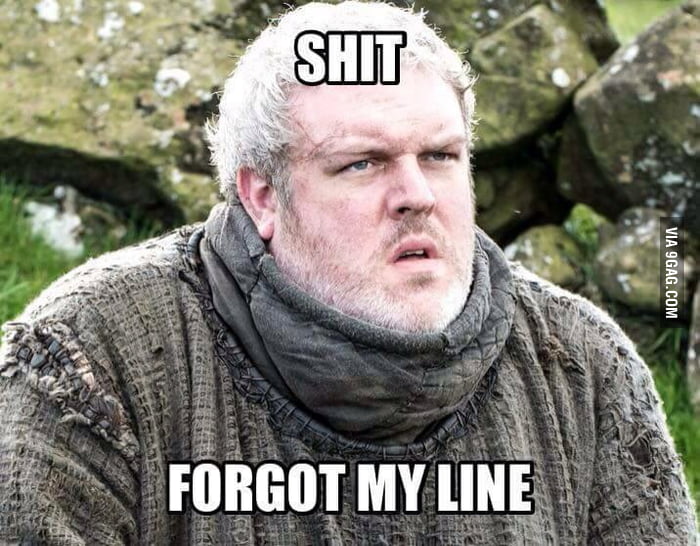 -After the giants are dispatched, they blow up the last column, finally switching Vizi and Mongo back into their own bodies, having both failed their saving throws to resist the body-switching effect.
"We succeeded by failing, as usual!"
-"Where's my fucking lightsaber, Mongo?!"
"Hey guys, did you see my fancy new lightsaber?"
-"The Hippomagus is so pathetic.."
"Shut up, Mu! He's your future!"
-They finally figure out that the gate they couldn't open rises when one of them touches it. Ironically, Mu had guessed this, but no one paid any attention to him.
-In the next chamber, the PCs face off with a minor demon that looks like a cross between the Chesire Cat and Longcat.
"Old memes are the best memes."
-The Hippomagus reacts to the Cheshire-Longcat's invisibility power by creating an anti-magic field, which he centers around himself, rendering him unable to cast any other magic.
"Why?! Why the hell would you do that? You know you're a wizard, right??"
-In mid-fight, Vizi touches the metal sledgehammer they got from one of the giant undeads (which turns out to be a hammer with a head made of solid mithril) and has a vision of the Wardens presenting the hammer to a trio of aztec-mummies.
-When the Cheshire-Longcat makes itself visible, the Hippomagus shifts the anti-magic field to the demon.
"There! See? Now it can't make itself invisible!"
"Huh. Ok, I guess you weren't so stupid after all."
"Wait, can spells affect it now? Can we hit it with magic missiles?"
"Well... no."
"Goddamnit you're an idiot."
-The Hippomagus annuls the anti-magic field.
-After blasting the demon to death, they move on to the final chamber, where they see a throne with what seems to be a corpse on it.
"I'm going to check it out you guys."
"Wait, I saw a vision of this, come back!"
"Suddenly, the 'corpse' stands up and looks at you with its dead eyes."
"Oh shit! I wet myself and climb back on the tank!"
"Are you tired of sucking, vizi?"
"Shut up you hippomagus-in-training!"
-The Hippo-magus and the Aztec-lich (who turns out to be a spellcaster) both get caught up in a Phlogiston Disturbance and vanish. Unfortunately, the Hippomagus was wielding the Sunstaff at the time.
"Oh shit."
"Well, there goes saving the world..."
-They wait for about an hour in the hope that the Hippomagus might return from wherever he came from. He doesn't.
"If he doesn't come back, everything depends on Mongo."
"Yeah, the mentally defective Ancient manchild who has no sense of self-preservation."
"We've faced worse odds."
-Rather than giving up, Sami prays for Divine Aid, and incredibly makes the roll, bringing the Hippomagus back! They'd both ended up in the Neutral-zone, where the Hippomagus managed to kill the Aztec-lich in magical combat. But he had no way to get back.
-"I hope this teaches you all an important lesson: keep your cleric safe!"
"I'm pretty sure if you died another cleric would show up to take your place."
"That's probably true.. I have a backup human."
-"Wait.. is G.O.D. your pimp?"
"What? No. Well, he does take all my money, he screws around with me by giving me stuff, but not always, and he randomly punishes me... shit! G.O.D. IS my pimp!"
"He even makes you get on your knees and worship him from time to time..."
-The party finally rides out of the pyramid, and continue on with the race. They soon run into a giant metallic snake-creature.
"I do NOT want motherfucking snakes on my motherfucking race!"
-"I have to say, the Death Race 3000 has been getting us a ton of XP."
"True. Whatever happens, we should come back next year!"
-After defeating the snake, the team rides on and runs into a strange looking giant holding a glowing cube.
"YOU CANNOT PASS UNLESS YOU DEFEAT ME, OR ONE OF YOU PASSES THE CHALLENGE OF THE CUBE OF CHANCE!"
"Vegan, you go."
"Why me?! Why not the NPC musician??"
"We've already had that talk, dude. The musician is a more valuable member of this party."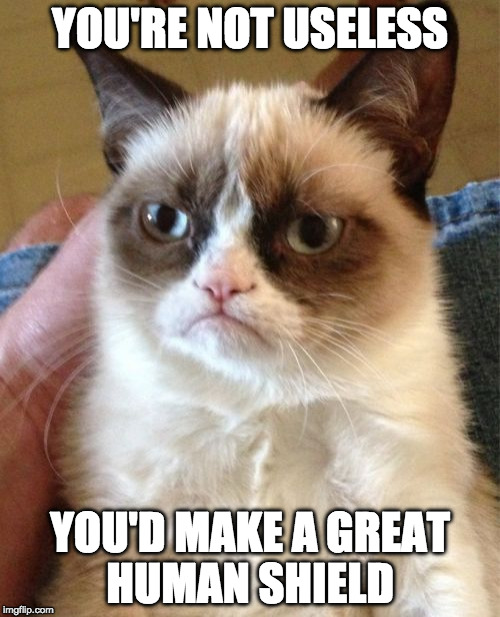 -The Vegan reluctantly accepts the "challenge of the cube", which involves tossing the cube and suffering the utterly random consequence it generates. He vanishes!
-"Hey Sami, can you bring the Vegan back like you did the Hippomagus?"
"I don't know, I was extremely lucky that time. Anyways, why would we want to?"
"So he can do the stupid cube-challenge again."
-Sami actually tries to bring the Vegan back, but when she did it with the Hippomagus she'd gotten a natural 20. That isn't going to repeat itself.
-"Why don't we just kill the giant?"
"If we do that, the cube might vanish, and then we won't get the Vegan back."
"Bonus!"
-"Where did the cube send the Vegan?"
"He was sent either to a place of neverending pain, or neverending pleasure."
"So there's a 50% chance he's having eternal bliss? Now I want to bring him back."
"Yeah, that's a risk we can't allow."
-The remaining PCs now try to convince the Musician, the second most useless person in the group after the Vegan, to take up the Cube Challenge.
"Listen, if I do this, then I get to go live in the Citadel with you guys."
"Ok sure. Wait, 'live'?"
"Yes. The Wardens let the winners of the Death Race to live in the Citadel with them forever!"
"But, can they leave?"
"I don't know, no one has ever come back; we assume they're having such a wonderful time they would't want to leave even for a visit."
"Oh shit... the Citadel's a trap."
-"The Musician tosses the cube, it glows brightly, and he seems to somehow appear more experienced."
"Did the musician just gain a level?!"
"I'm a bard now!"
-Having won the challenge, the Giant offers the party the option of bringing the Vegan back. They agree, and he is drawn back to the material world from the demiplane of infinite bliss just before getting it on with 72 virgins.
"73, counting the Vegan!"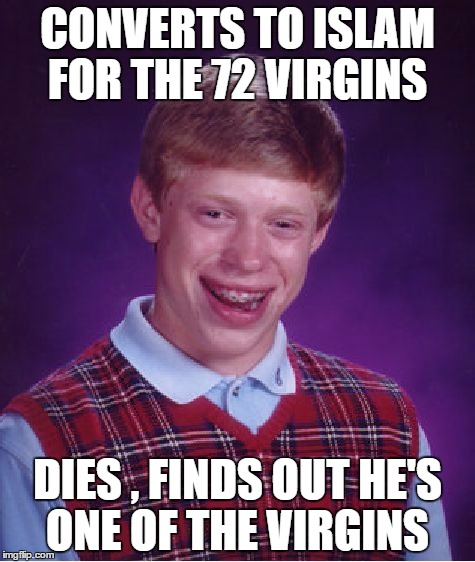 -"The vegan isn't a virgin, remember that old witch he had to sleep with after he robbed her, who he later murdered?"
"I don't talk about that!"
-"What's your name, musician."
"I'm Max. Now, I'm Max the Bard."
"Oh great, that's just what we need, another NPC."
"Says the NPC."
That's all for this session. Stay tuned next time for part three (the last part? Knowing this group, maybe not) of the Death Race 3000!
RPGPundit
Currently Smoking: Stanwell Deluxe + Image Virginia