So, I haven't posted yet today because of an epic shitshow of a Twitter fight, where I've been busy taking on all comers from a gang of hipster-gamers.
The subject? What has prompted countless tweets? Is it Trump? The environment? Transgender rights?
Nope. It's that I had the audacity to suggest,
on this thread
, that D&D Livestream Youtube Shows like "Critical Role" are not actually a lot like what you see in most real games; and the shit especially hit the fan when I dared to suggest that.. and I know this was crazy of me..
that people who watch these shows but don't game aren't actually gamers.
Here's
what I said:
"If they PLAY, they're #DnD gamers. If they just watch actors on a Youtube Reality-Show, they're not."
Well, you wouldn't believe the number of hipster gamer types who rushed forward howling in outrage that I would dare to suggest that people who never ever play D&D aren't actually D&D players. As if this wasn't so obvious it slides into tautology territory.
No, to them, it was incredibly offensive of me to say that if you've never played D&D even once you aren't actually a D&D gamer, no matter how many episodes of CriticalRole you've watched.
Note: I made it very clear, over and over again, that I wasn't 'gatekeeping' ANYONE who had actually played. I was saying, for the purposes of this argument, that if you've ever sat down and played an RPG even one single time I'll accept you're a gamer, but if you haven't ever, never ever, played an RPG, that makes you a NON-GAMER. You know,
because you haven't ever played
.
For the whole glorious spectacle you'll need to check out the
tweets & replies section of my Twitter account
. Which, I don't know why, it seems you can only do if you're logged into Twitter (anyone know how to change that??).
But anyways, I've spent the whole day on this. It's been hilarious. I figured I'd get a fuckton of people pissed off when I pointed out that D&D YouTube shows are just that, shows. With paid actors and fake enthusiasm, and that they are not much like actually playing D&D, and they are almost destined to create a whole generation of disappointed players who think they should be getting the "look at the hipster-cool nerd thing I'm doing!! OMG High-Five Wooo So Random" experience they see from the PAID ACTORS on shows like CriticalRole.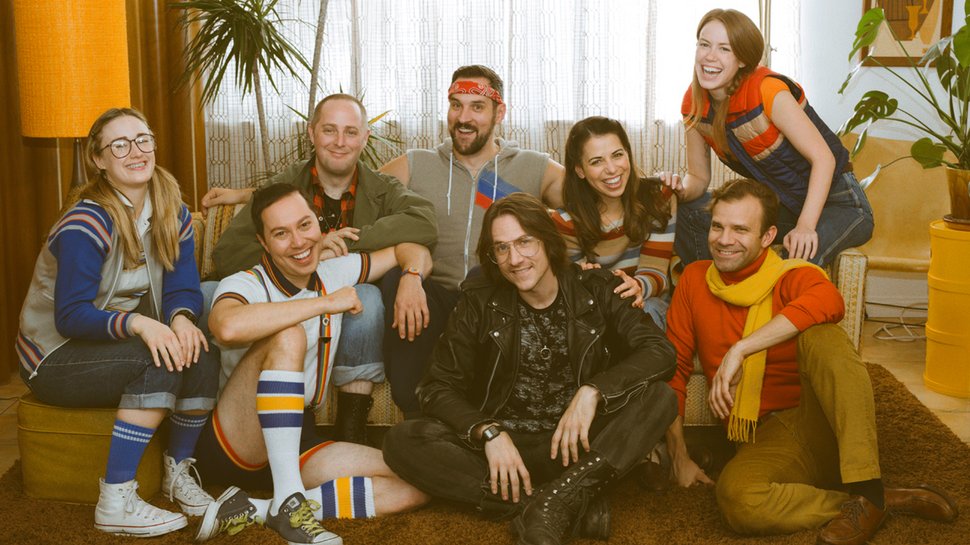 (yeah, no chance these guys are just a group of paid actors looking to make money and expand their careers by making prefab scenes and 80s nostalgia to milk rubes who think its all real)
I didn't figure I'd get a fuckton of people trying to claim that if you never played D&D in your life you are still a vital part of the "D&D Community" if you watch shows like Critical Role. That watching the show makes you a gamer, even if you haven't ever played the game.
You know, like how if I were to go watch the new Paddington Bear movie, that would make me a reader.
Or British.
Or a tribesman from Darkest Peru.
Or, you know, a bear.
Go on, howl about how intolerant I am by daring to say that
every single fucking person who's ever played is a gamer but people who have NEVER played are not.
See this? This is the world you fucking millennials have created. Where you literally have people claiming I have no right to say SOMEONE WHO NEVER GAMED is not a gamer, if they "feel" like they are.
But fortunately, I'm the RPGPundit. And if someone actually has to be called a 'gatekeeper' for stating the moronically obvious to stop the slide into total 'up is down' relativism, I'll be glad to do it for all of you. So here goes:
I don't give a twopenny fuck about your (a)moral objections you fucking Swine.
People who do not play RPGs are not part of the RPG Community. PERIOD.
Fans of YouTube vaguely-D&D-themed Prefab Reality-Shows who have themselves never actually played D&D are NOT GAMERS. PERIOD.
See that? Gate, kept.
RPGPundit
Currently Smoking: Lorenzetti Volcano + Blue Boar